Our BloodWatch team is working hard to fight for our public, voluntary blood system and we want you to join us! There is an amazing movement happening across Canada right now and we would like to invite you to be a part of it. We need your help to make sure The Voluntary Blood Donations Act is passed in every province in order to preserve and protect our voluntary blood system.
Why is this so important right now?
Private blood brokers tried to set up three clinics in Ontario that would pay people for their plasma in order to export it, sell it and make a profit. Not only does this contravene the fundamental principles of the Krever Inquiry but also it creates a competitor in our public blood collection system.
We worked hard to make sure the private company was banned from opening in Ontario, but they moved to Saskatchewan and opened a clinic there. Now they want to open ten more clinics across Canada. Not on our watch! Check out our video to learn more.
There are many ways to get involved:
1.) Sign the SumOfUs Online Petition
SumOfUs.org, the amazing online campaign platform, is profiling BloodWatch on their site. Check it out and SIGN THE PETITION: Ban for-profit donor-paid plasma collection in Canada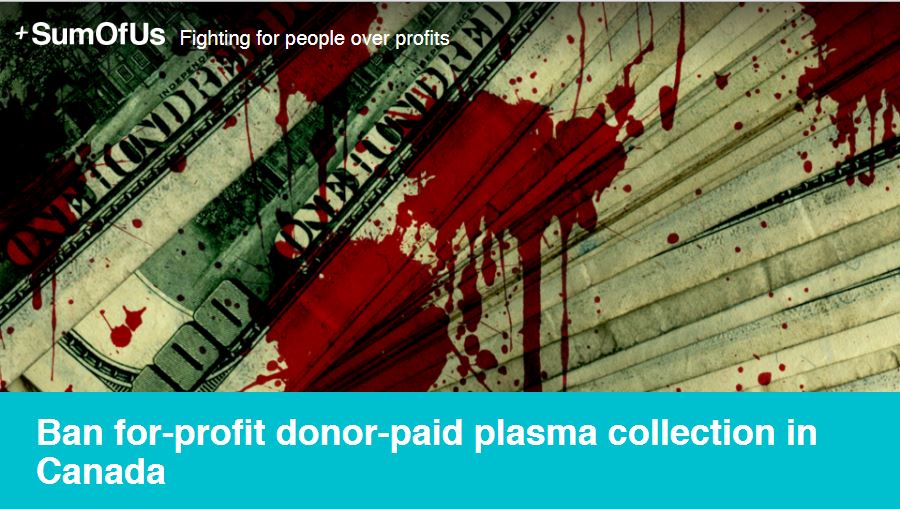 2.) Download our signs, take a pic, tweet it #nopaidplasma and make sure you send us a copy.
Red Version
White Version
Here is who you can tweet:
Prime Minister Trudeau @JustinTrudeau
Federal Health Minister Jane Philpott @janephilpott
Don't forget about us! @BloodWatchOrg
Your Premier and Provincial Health Minister
Don't forget about your local Mayor
3.) Write a letter to Federal Health Minister Jane Philpott and make sure you CC Prime Minister Trudeau.
Here are their emails: jane.philpott@canada.ca,  justin.trudeau@parl.gc.ca.
Don't forget to add the date and your name and address at the bottom. Please, send us a copy too – it helps boost our spirits. You can also use the letter as a template to write to your Provincial Health Minister.
You can find more information on the current status of Federal policy by going to the BloodWatch Federal Page.
Download Sample Letter
4.) Write a letter to your Provincial Minister.
You can find your minister's contact information, along with a sample letter, by going to the BloodWatch Provinces page.  You will also find a detailed summary of your province's blood legislation status.
5.)  Support us through a donation.
We cannot exist without the generosity and kindness of our fellow citizens! Just click the pink button at the top of the page!
6.)  Connect with us.
Please follow us on twitter and FB. Write us anytime. We can provide you with tools and info kits on how you can advocate in your communities.
7.)  Book one of our BloodWatch team to speak at your event.
We love Canada, we love our public blood system, and we love sharing the truth!